Introducing Molly — A Q&A with our Marketing & Copywriting Assistant
25.10.21
Reading Time
4
MINUTES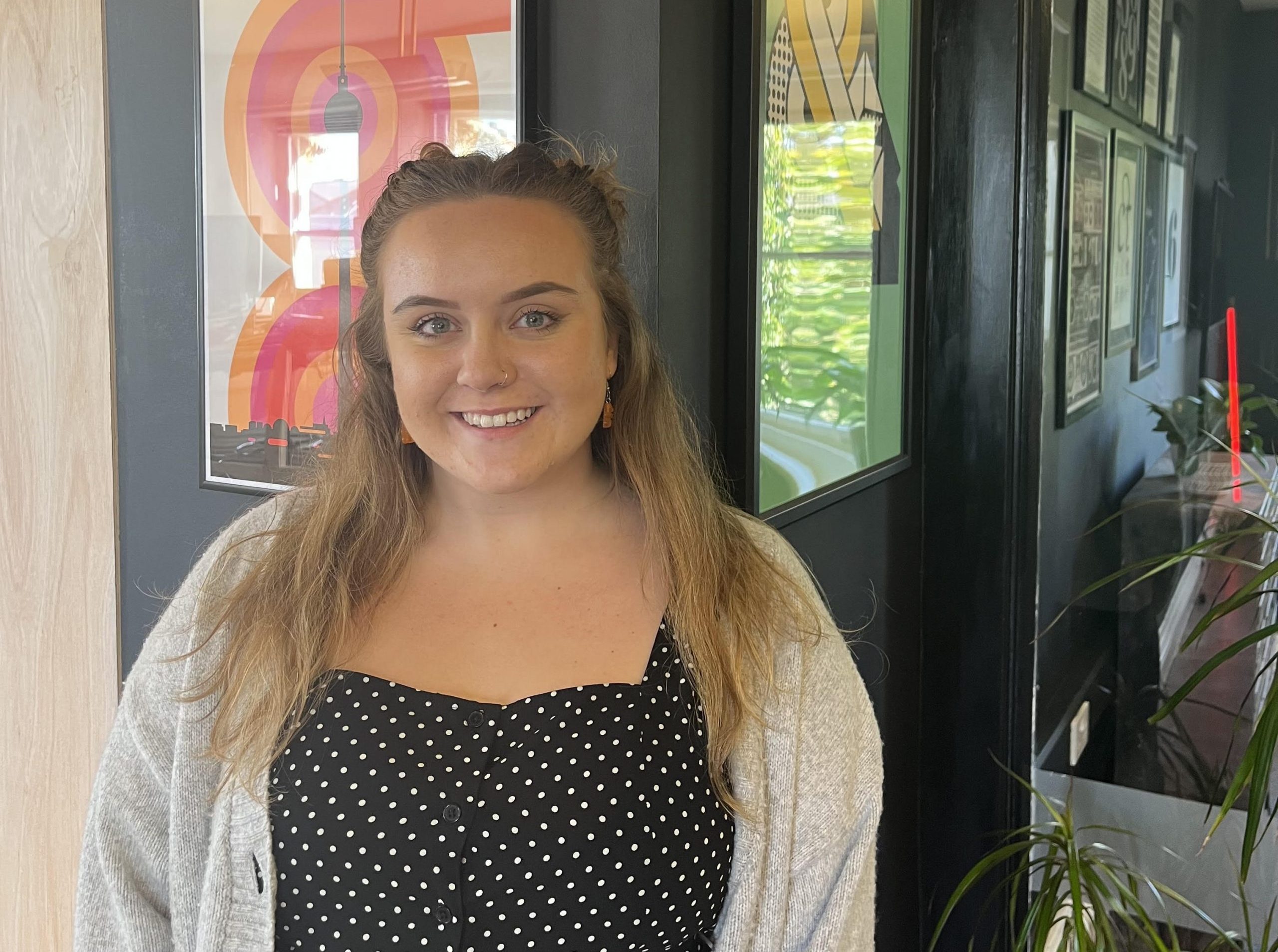 "As a fellow Essex gal, I would have an intense conversation with her over the perceptions of our 'kind'. A bottle of Echo Falls will probably be involved."
Who's Molly talking about? And who else would she invite to her dream dinner party? And what would she ask her dogs if they could speak?! All necessary questions. Keep reading to find out more about our awesome new team member.
What's your role at designdough?
I feel so lucky to be able to say that I'm the new Marketing & Copywriting Assistant for designdough! My tasks include creating and writing social media content, implementing marketing strategies to support campaigns, writing blogs, and liaising with designers to write their inspiration and ideas into existence. If you need anything to do with writing, reading, or proofreading – I'm your girl!
What led you to this career?
I have been an English Language & Literature nerd for as long as I can remember, so it only makes sense that I spent 3 years at Cardiff studying what I love. My university journey ended for me in June, but my passion for writing didn't. I had been volunteering at the University newspaper for three years, ending my degree as Deputy Editor after working my way through the ranks – I'm not ready to stop writing just yet. I also got my first glimpse into the marketing world through an internship with a local digital marketing agency which I really enjoyed. I'm very grateful that my job at designdough combines all of these things that I love the most.
If you weren't a Marketing & Copywriting Assistant, what would you be?
Without a doubt, I would be a secondary school English teacher. My old high school staff hold a dear place in my heart, and I know how much of a difference they made to my confidence as I was growing up. I'm certain that I wouldn't be here today without a few of them (you know who you are!). I would love to follow in my mum's footsteps by supporting students and passing on my love for the subject. That's the dream.
Who are your five dream dinner party guests?
Johnny Cash – my music hero. I have spent countless hours and years listening to his music. I was only three years old when he died.
My Grandpa – there's no way I could have Johnny Cash at a dinner party and not invite Gramps… there would be hell to pay.
Gemma Collins – hear me out on this one. As a fellow Essex gal, I would have an intense conversation with her over the perceptions of our 'kind'. A bottle of Echo Falls will probably be involved.
Gordon Ramsay – I've watched every single episode of Hell's Kitchen and I'm proud to admit it. Very important time has been spent scrutinizing professional chefs' Michelin star meals as I stare at the TV scoffing super noodles from my sofa. I think it would be strange yet refreshing to see him in a calm environment, and maybe he'd even make us all a meal? Hopefully without the obscenities.
Lin-Manuel Miranda – do I even have to explain this one? Have you seen the masterpiece that is Hamilton?! My musical theatre heart would soar in his presence.
You're walking to work on a Monday morning…what songs are you listening to?
Riptide by Vance Joy
The Spins by Mac Miller
Ophelia by The Lumineers
Cherry Wine by Hozier
Sky Full of Stars by Coldplay
What's the last thing you read / the last podcast you listened to?
The last thing I read was 'The Silent Patient' by Alex Michaedes and it's an amazing psychological crime thriller. Without giving too much away, it involves a psychiatric hospital, a murder, and a huge plot twist that I never saw coming.
The last podcast I listened to was 'Nothing Much Happens'. I fall asleep to it every single night. Each episode is a short story where, you guessed it…nothing much happens. The storylines are about nothing and everything at the same time. It's perfect to mindlessly listen to at the end of a busy day just as you're getting into bed.
It's your last meal on Earth, what's on the menu?
My Grandma's sausages, lentils, rice and cabbage. She swears that it's the only thing I used to eat when I was younger, and I have to believe her because it is still my favourite meal ever. Anything she makes would be an incredible last meal…oh, and a cup of tea from my Mum on the side.
What's been the best thing about living in Cardiff?
The amount there is to do! Coming from a small town in Essex, Cardiff opened up a whole new world of opportunity for me. I could leave my house to go clubbing at 2am, I could order pizza until 5am, I could go to a huge Primark without having to get on a train. This city has given me my independence, and I'm forever grateful to it and the people within it.
If you could ask your dogs 3 questions, what would you ask them?
My two schnauzers, Chaz and Ethel, are huge joys in my life. With big joy, comes big noise. I often think I hear Chaz barking even though I'm 204 miles away from home…it's quite freaky how it is ingrained into my mind.
Question One: What's your REAL name?
Question Two: Do you love me as much as I love you?
Question Three: Why do you act so surprised when you pass wind?
What's the best piece of advice you've been given?
A timeless classic that sounds a bit malicious now that I think about it…but you can use it in countless scenarios…
Forgive, but never forget.