When Alice Met Lin-Manuel Miranda
13.09.18
Reading Time
3
MINUTES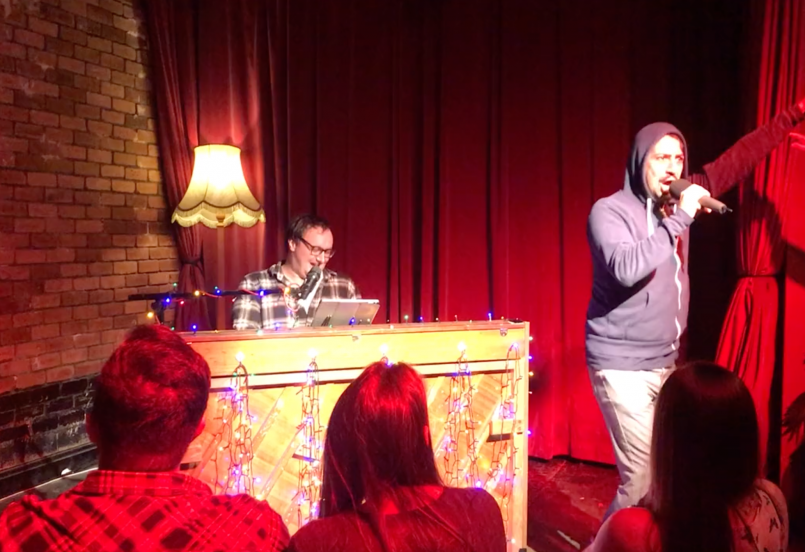 It's been a bit of a unique last week for our designer, Alice.
Alice, in her own words, is a musical theatre nerd. There's never any doubt that if Alice has her headphones on in the office, she's listening to some kind of musical soundtrack – predominantly Hamilton, She is very proud of the fact she can tell us many a rhyming-fact about the founding fathers of America (the basis for the musical 'Hamilton') and she's insisted on doing it many times…
We were reading an article a few weeks ago by our friends at BadWolf, whose brand and website we're super proud to have created, that listed the cast for their upcoming production of Philip Pullman's 'His Dark Materials' which included the name, Lin-Manuel Miranda. We soon started to learn about Lin-Manuel as Alice educated us on the wonders of his work, his superb humour, support for good causes and the significance of his musical, 'Hamilton'.
If you've never heard of Lin-Manuel Miranda, we recommend you Google him now. We've definitely been convinced that he's an all-around good egg (and not just because Alice keeps telling us so)!
Last week, Alice found herself in Porters, Cardiff with some friends at musical theatre night 'Jane's Calamity', when murmers started across the bar that Mr Miranda may be making an appearance that night.
Around 9.30pm, a hooded man walked in and made his way to sit in the corner of the room where it happened… (Hamilton reference no.1). As soon as the pianist begin playing a song from Hamilton, the hooded man in the corner revealed himself to be none other than Lin-Manuel Miranda. There are plenty of videos online of this moment – but here's a little clip that we got our mittens on:
The evening drew to a close with a song around the piano and Alice did not throw away her shot! (Hamilton reference no.2) She did what any millennial would do – took out her phone to take as many selfies as possible!! Leaving the pub with an abundance of unforgettable memories and rather a lot of not-quite-on-key videos, she tweeted a clip of the star singing next to her, and went to sleep…
Little did we know that when Alice had been banging on about how much of a big deal this 'Miranda guy' was for the last few months – she wasn't lying, and the video she tweeted was about to make its way around the world!
Alice arrived in work on Monday morning to tell us that her clip of her and Lin-Manuel singing at the piano the previous week now had nearly 20,000 views on Twitter, had been on Wales Online, Huffington Post, Radio Times and that she'd been contacted over the weekend by ABC News to use the video on 'Good Morning America'!
We're still in the process of trying to stop Alice wearing sunglasses and a hood to work (she's worried she's going to be spotted with all this new found fame!) but as a team, we're so happy that Alice got to meet the person who inspires her so much! We've been listening to the 'Hamilton Mixtape' in the studio, and we must say…we're on our way to being converted!
We're really proud of the work we've done with BadWolf, and we can't wait to see them continue to grow across the world. You can check out the work we've done for them HERE.