'Break' Time
12.03.15
Reading Time
< 1
MINUTE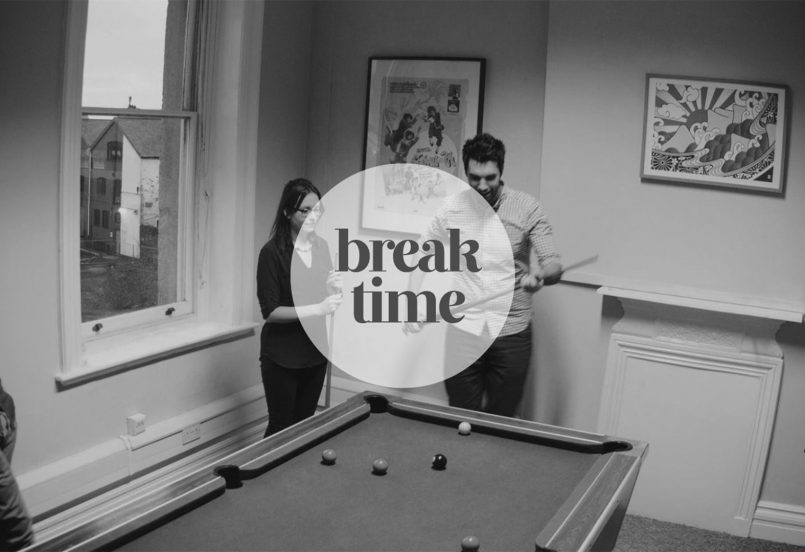 …it's about getting away from the computer and shooting pool.
However, I'm going to attempt to sell the concept of increasing creativity and concentration through timely pool 'breaks' (excuse the pun).
It's no secret that taking breaks in work is important, but when the chips are down and deadlines are looming it's difficult to justify a group outing around the block. However shouting 'anyone fancy a game of pool?' seems to get everyone on board and within a few minutes we are all crowded round an often very competitive yet extremely amateur game of pool. The advantage is that it allows us the opportunity to discuss the challenges of our current projects, offer ideas and solutions, and most importantly to get away from the computer and freshen our minds. We often find the ideas flow far faster after a quick game (especially if you win).
Still not convinced? According to the boffins at Bupa, taking regular breaks at work can vastly improve both your mental and physical state and can reduce the risk of eye strain, stress, tension and even hunger – although I'm not sure I agree with this one; as soon as eleven o'clock hits I find myself reaching for the biscuit tin no matter how many games we've had.
As yet we haven't tested the effectiveness of a game of pool on our clients, so if you'd like to pop over for a game to discuss a project, to take a break (again excuse the pun), or just to see if you can beat us, feel free to pop in any time.