Meet Michael – Q&A with our Web Developer
16.04.20
Reading Time
5
MINUTES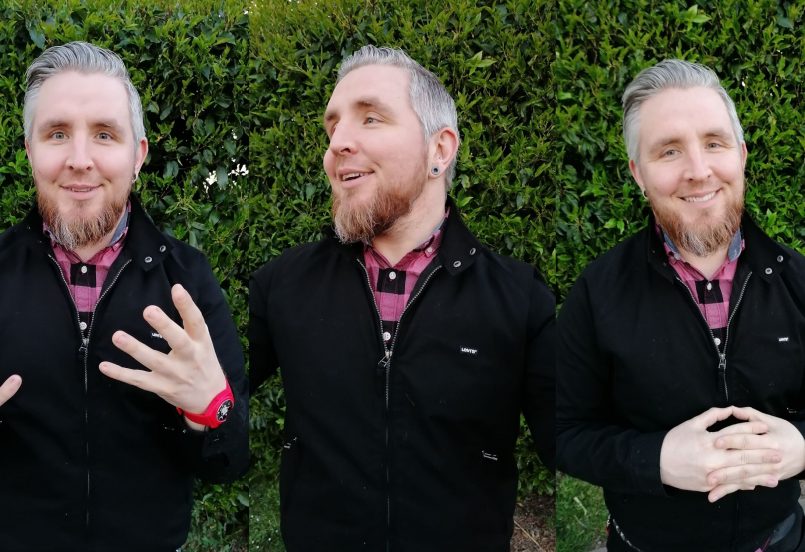 Meet Michael, the newest member of designdough! It's been a rather unconventional start for Michael and us – he's been with us for a month but we've only met him twice… and one of those times was his interview.
Starting a job whilst working from home is, of course, not the norm for us here but thanks to Google Meet and Zoom, Michael already feels like an essential part of the team. Even though he keeps winning the Friday quiz *not bitter*.
Without further ado, it's over to him so that you can get to know our awesome new web developer too.
First things first, what's your role at designdough?
Officially, web developer. Unofficially, I like to make cool stuff for the web.
What parts of your job do you enjoy the most?
I got asked this question not so long ago. I don't think my answer has changed at all.
I love the never ending changes and challenges that come with the web. It never sits still, changes constantly and you've always got to be ready to learn something new. If you meet a web developer who acts like they know everything, they are lying.
More specifically, there is a point in building a website when the mechanics of it are coming together and I start to get to add hover effects, transitions and all the subtlety that makes a website come to life.
How have you found starting a new job from home?
It's been a strange experience. Regardless of the stereotype of web developers, I really like being around creative people. You can bounce ideas around, solve problems quickly and lift each other up. Everyone at designdough is super friendly and approachable, it's a shame that we aren't all in one place, but I guess that is part of life in 2020. It's amazing how welcomed you can feel via slack and video calls.
If you weren't a web developer, what would you be?
There is a part of every teenager who picked up a guitar that dreams of being a rockstar…but let's be honest, I spent most of my 20's working in bars and kitchens so I could pretend music was an option. Truthfully, I have no idea, maybe a chef? I'm pretty handy in the kitchen.
Outside of work, what are your favourite pastimes?
My pastimes are definitely polar opposites! On one side of the coin, it's long runs on quiet off road tracks and bike rides to the middle of nowhere because someone told me about a hill to ride up. On the other hand, it's cinemas, record shops and dingy music venues!
You're walking to work on a Monday morning, what song comes on as your soundtrack?
This is a hard one. I'm not someone who likes to get hyped in the morning, more likely to ease myself in. Lately my early part of the day (any day could be Monday right now) choices have been:
Atmosphere – Southsiders
Hip Hatchet – Hold You Like a Harness
Murder by Death – The Other Shore
Pijn & Conjurer – Curse These Metal Hands
Or maybe a podcast:
Over The Road or Everything is Alive are my current favourites. Over the Road is a look into the American trucking industry and each episode of Everything is Alive is a sit down interview with an inanimate object. I know that sounds strange, but it's actually heart warming, funny and at times existential.
Same question, but Friday.
Friday is definitely a day for some spring in your step!
The Interrupters – Fight the Good Fight
Katy Perry – Teenage Dream
Dance With the Dead – Loved to Death (Thanks for recommendation Gareth!)
End – From the Unforgiving Arms of God
However, ask me again in a week or two and the answers will be 100% different.
You've already won 2 designdough Zoom quizzes – how did you get so good at knowing everything?!
I've had nearly 40 years to remember lots of useless info!
I'm pretty sure it was a mix of fluke and playing to my strengths. If you want to talk about music, movies and general pop culture, I'm there! If it had been a sports quiz, I would have come dead last!
Some can recall who scored all the goals in the 1974 FA Cup final. I can tell you facts about long forgotten one hit wonders.
On a day held in your honour, what would people have to do?
I'd like there to be some kind of race for people to run, cycle or swim, excellent food options, opportunities to buy records, live music and wrestling. I love that Brighton marathon usually ties in with Record Store Day, because I get a weekend of records, food and running!
Who are your five dream dinner party guests?
Right now? Anyone. In. Person. But seriously, Courtney Dauwalter, Rick Beato, Roman Mars, Cody Rhodes and Rivers Cuomo.
Anyone, anywhere any when? Robin Williams, Johnny Cash, Robert Johnson, Tom Petty & Macho Man Randy Savage.
It's your last meal on earth, what's on the menu?
Is everything an option? Can you go to Florence and see if the old guy is still making pizzas in the place by my old apartment. Stop off at the Meat Market in Covent Garden for some deep fried breaded mac and cheese. Stop in on Eggslut in Vegas to pick up a Gaucho sandwich. There are SOOO many incredible possibilities.
What movie have you seen over 20 times?
There are probably quite a few:
Star Wars 1-6
Back to the Future 1, 2 & 3
Rocky (possibly all of them)
Transformers: The Movie (1986)
Star Trek 2, 3 & 4
My Cousin Vinny
A bunch of Disney movies
Most of The Muppet movies
Die Hard 1 & 2
Gremlins 1 & 2 (I have a Gizmo tattoo!)
Bill and Ted's Excellent Adventure and Bogus Journey
Wayne's World 1 & 2
Ferris Bueller's Day Off
Who Framed Roger Rabbit
I'm pretty sure I could keep going.
How long would you last in a zombie apocalypse?
Rule number 1 from Zombieland is Cardio! I would rely on my ability to run for hours and my knowledge of quiet paths and tracks to get me to a safe place. If we do end up in a zombie apocalypse, I need to make sure I've got the right trainers on!
As a cat lover, if you could ask your pet 3 questions, what would they be?
Bayley, why don't you listen to me?
How can you still be hungry?
Why do you like sleeping on my sweaty running clothes that need to go in the wash?
What's the best thing about living and working in Cardiff?
I always think that Cardiff feels like a massive village. To give a city character you need, culture, music, independent businesses and food, thankfully, we have all that, whilst being small enough that you can turn up to something on your own and probably know someone.
Mountains to explore in one direction, beaches in another and decent access to bigger cities as well.
I'm also a sucker for my commute to work. It's hard to be miserable on a sunny day as I ride my bike up and down the Taff trail.