A Q&A with Ceri Gillett, Brand Labs 2019 Winner
18.06.20
Reading Time
8
MINUTES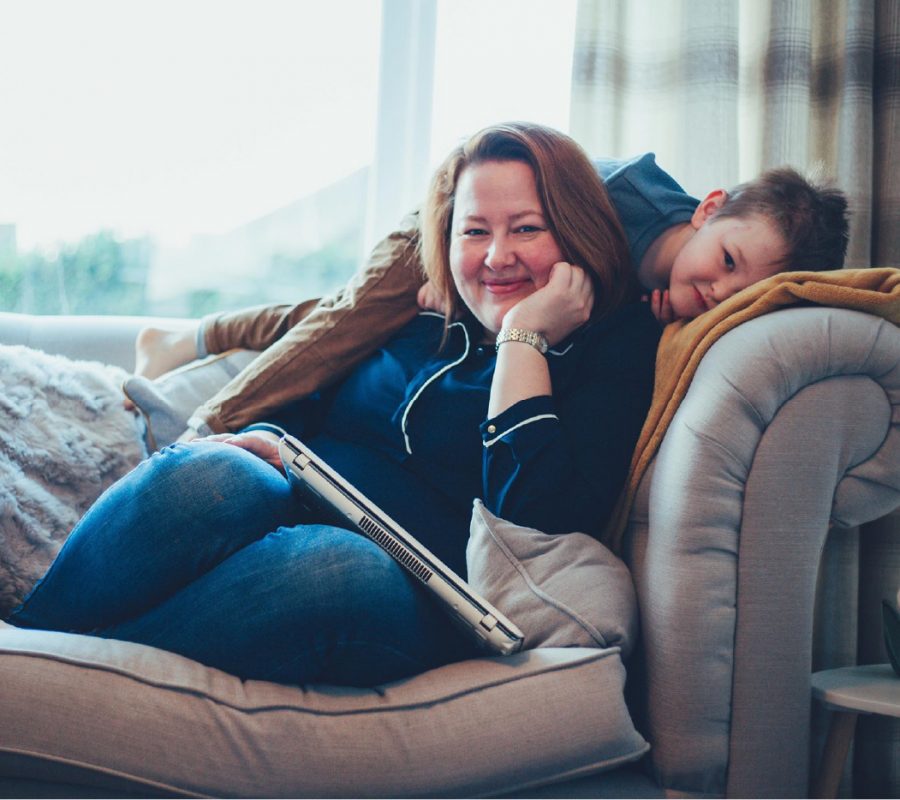 For those who are new to Brand Labs, it's our annual competition where one Welsh startup has the opportunity to win a complete brand package worth well over £10,000.
We could go on about what the competition means to us, and how valuable we think it is. But if you're thinking of applying this year, what could be better at encouraging you to go for it, than hearing about the experience from a previous winner?
"Can I tell you? I was going to win Brand Labs if it killed me."
Introducing the wonderful, Ceri. You can get to know more about Ceri and her business below, but what we will say is that she is, undoubtedly, a worthy winner. We are continuously inspired by her dedication to helping others achieve amazing things, and we can't wait to share her new brand with you in the coming weeks.
So without further ado, the Q&A you're all here for…
Congratulations again on winning Brand Labs 2019! How did you feel when you found out you'd won?
I can clearly remember getting the email to say I'd been shortlisted and dancing in the car park when I dropped my son to school. When I found out I won I was actually alone, in our office where I do accounts. It's basically a big tin shed in the middle of the countryside and I screamed, cried and made myself a cup of tea. Not the most rock & roll celebration but it tells you everything you need to know about me & my business.
Seriously though. I was ecstatic, especially as this was my second year applying but I'll tell you more about that later.
We obviously know all about you, but for blog purposes, could you tell us a little bit about yourself and your business?
Well, I live in the South East Wales countryside. I'm unemployable, I've been self-employed since my early 20's. I run a street food catering company with my partner James, we have one son Fred and my other child is Mubo.
Mubo is an organisation that helps parents start and build brilliant businesses. It grew out of my own experience as a mum with very little time or budget to access resources & support for my own business journey. Mubo is an online platform that allows parents to access a free online course to get them started, as well as online networking & workshops for existing business owners.
The big question – why do you do what you do?
When I think back to when I was starting the catering company, I was a new mum, living in a rural area. I had a baby who needed me constantly. I had put every penny we had into the business & my partner was working agency shifts doing unsociable hours to keep us going.
Although I'd been in business for a long time previously, this new start-up felt more pressured. I was someone's mum. There was someone who needed me constantly & financially. It changed everything. I think coming out of my usual work circles & friendship circles had also really impacted my confidence and I really wanted someone to tell me what I was doing was on the right path, that it would all work out ok.
I went down the routes that many people go down. I spoke to my local authority, I was pointed in the direction of big business support organisations. There was tons of help out there and I got really fired up to get started. The problems came when I was invited to a workshop, I asked if I could bring my baby because I had no close friends or family for childcare. I was told I could but that 'if the baby started disturbing people I'd obviously have to take them outside'. That was it, the roadblock I didn't need. With my confidence already low, being a first-time mum and thinking 'actually my baby does cry and does fuss, I better not go'. It reaffirmed that quiet voice that said I was way out of my comfort zone.
I tried again in many ways to engage with support but I hit roadblocks each time. Going without my little one involved costly child care, and some of the events or workshops involved too much travel that I didn't have time for or couldn't afford. I saw these amazing events in big cities, held in fabulous places, with these women who confidently rocked up with three children in tow and I thought if only I could do that.
That's where it started. As I spoke about my journey in business I uncovered tons of people who felt the same and had experienced the same things. I'd also had some particularly bad experiences with the online business support world. It often promised tons and had high price points, but in my experience often didn't deliver. I heard horror stories from women who paid out all their savings for courses that would solve all their problems. I felt sad, for me & for them. That sadness turned to a bit of anger and I thought If no one else will change this, I will. So I just started.
What are your top tips for anyone starting their own business?
Just take the first step. Doesn't matter what the step is. It could be saying 'I want to start my business' out loud. It could be looking for support, starting your social media channels or just asking if anyone is interested in what you do. The important thing is doing it because I meet so many people who are stuck. There is so much fear of the unknown in that space before you actually start, sometimes the longer you stay there the scarier it becomes. It's actually really easy to do the beginning bit, you just take that step and it all grows from there.
Start in the smallest way you can. I honestly believe that you can start any business right now, with what you already have but tons of us are waiting for perfect conditions and ultimately just holding ourselves back. You don't need anything special to start a business. You just need to start.
Engage your friends. If you have a passion, a mission, a love for something you want to do PLEASE don't keep it to yourself (ladies, I'm looking at you). Do you know how many women I talk to that have this idea, they've held that precious idea for years, they've planned it out, they've dreamed it, visualised it, sometimes branded it and built it and yet they've told no one? They don't tell a single person what they are planning to do. Why? because we aren't so great at stepping out. Maybe we don't know business owners, we've not seen amazing parents rocking the entrepreneur thing or we are just scared of what people will say. But if I know anything it's this. Your closest people will become your biggest supporters and in an age of noisy social media, you need that a-tea. So round them up and get ready for the ride.
What was the main thing you were hoping to get out of Brand Labs?
Can I tell you? I was going to win Brand Labs if it killed me. I applied in 2018. I was shortlisted. I was running a different business at the time & part of the shortlisting process entailed coming into the office to do a presentation. I found out I was shortlisted in 2018 when I landed in Poland for my brother's wedding. The presentation day was the day I landed back in the UK. I knew it would be a killer to prepare but I didn't want to miss out, so I turned up and the minute I walked into the old designdough offices I loved it. I met the team, I did my presentation and we chatted about the business & branding. I say chatted, Joe actually questioned every part of my business. He wanted to know the ins and outs. Why I did what I did. It was intense.
I came out and I thought 'I have to win this – they would make this business everything I have dreamed of'. But actually I didn't win & the conversation with Joe made me realise the business didn't actually work! I left that day and stopped working on my business. I went back to the drawing board and focused on the 20% that I adored & that is where Mubo was born. I told Joe that I'd enter every year and one year I would win. I even photoshopped my own winner's announcement blog post and stuck it above my desk. I waited patiently for Brand Labs 2019 to open and applied. I actually thought I might not stand a chance because I'd entered previously, but I knew that where I was with Mubo was directly influenced by the conversations I had with Joe & the designdough team the year before.
Mubo seemed like a bigger mission, it wasn't a hobby or a project. I knew it was 'a brand' and I knew designdough would be the ones who could make it everything I knew it could be. I used the words 'I should win because Joe killed my business' in my application, just in the hopes of getting the team on my side. After Joe changed everything for my business the year before, I really wanted to come back and show them what I'd been able to create.
How did you find the Brand Labs application and interview process?
I'd say, come prepared (but also don't let that put you off). So firstly, I would move into the designdough offices tomorrow if I could. Everyone is ridiculously friendly, it's trendy, there is coffee & usually snacks. So no one makes you stand on ceremony and it's great but a prize like this requires some effort from the entrant.
I thought about each answer I put in there. I prepped for my presentation. I spent ages, absolutely ages thinking of the questions I would ask myself about the business and what I was trying to do and I answered them before I went in.
The interviews were really comfortable though, the team is great as I've mentioned and ultimately they want to understand what you do and make something brilliant. They do that by asking questions, visioning and doing many other things that have fancy words that I don't know. It totally works though.
After I walked out of my presentation I felt so confident about this business I'd have probably paid for that session alone.
Describe your overall experience with Brand Labs in 3 words.
Same Time 2020? No seriously. BIG TIME UPLEVEL (is uplevel two words?). I would not be where I am today if I hadn't worked through this experience with them & that's the truth of it.
How do you feel about the final result?
I never had any fear about handing over the reins to the DD team. I would have let them do the whole thing with me blindfolded, that's the difference when you work with a team like this. They understand me & they understand the business so when the first round of design concepts came back, I picked one instantly and actually really liked every single one they sent over. I know that Mubo is ready for its future and it will all be based on the work we've done together. I'm thrilled with it.
How do you feel your new brand will impact your business?
It looks, sounds & feels like someone's proper, grown-up business. I think sometimes when you spend a long time alone with your idea it can be really hard to deal with the possibility of what it could become. I had an idea, I thought it could be amazing and these people (the dd team) agreed. They helped me build it out. They built more than my brand, they built my confidence in knowing what I was capable of. When I show this brand to clients, to corporate partners and sponsors I feel that confidence in what it & I can be. That's what happens when you build a brand.
If anyone is on the fence about applying this year, what would you tell them?
There is nothing better you can spend an hour on for your business, than entering Brand Labs. If you have an idea or business that you know needs this – do it. Your business & you deserve to have people nurture it. It's more than a design agency, they can help you shape the thing you dream of.
To learn more about Brand Labs 2020 and how to apply, click here.