The Power of Brand: IKEA
17.09.18
Reading Time
4
MINUTES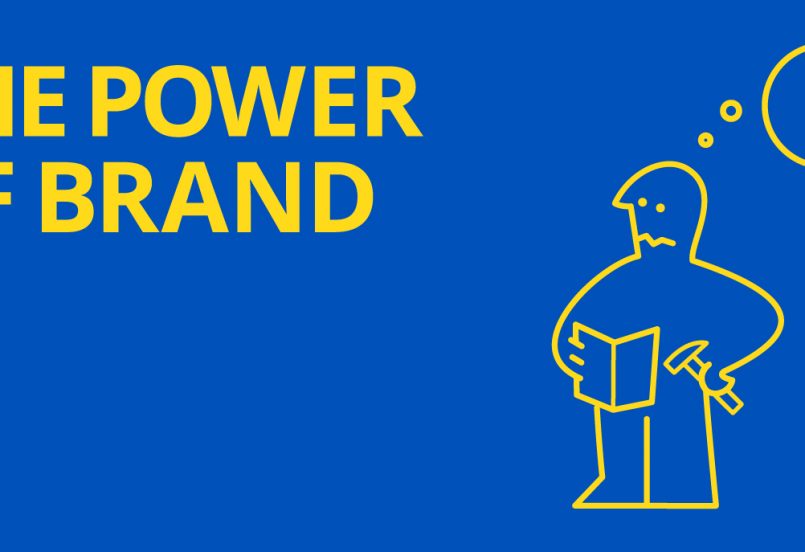 Love it or hate it, we can almost guarantee that you currently have, or have had, an IKEA product in your home, whether that be a LACK, a BILLY or even a simple BERGENES. The infamous big blue box is now such an integral part of our lives in the UK, that we're hard pushed to think of another furniture company that has even come close at being so influential.
Now sporting a massive 276 stores amongst 25 countries worldwide (and that doesn't even include the franchises), IKEA started life in 1943 as a humble mail order company specialising in items such as pens, wallets, picture frames and nylon stockings and eventually moving into designing and commissioning the manufacture of furniture. By 1953 the company had become successful but competition was vast and soon prices and quality were starting to be driven down. To combat this, knowing that the dip in quality would go against everything they had built so far, IKEA opened its first showroom in Älmhult, Sweden, showcasing all of it's stock to the public and revolutionising the way it did business; with a focus on value for money and putting the power back into the hands of the consumer. That was only the beginning of the innovation, with the idea for flat-packs coming next, born from one of the IKEA designers simply removing the legs from one of the IKEA products in order to fit it in his car.
The first UK IKEA store opened its doors in 1987 in Warrington to crowds of people, some of whom had camped out the night before to be the first through the doors hearing about the deals to be had inside. This is where IKEA truly caught the attention of the UK markets – unparalleled affordability coupled with contemporary styling; a breath of fresh air from the continent.
From the beginning, IKEA's vision has been to "create a better everyday life for the many people" and this is reflected in every part of their business model, from the way that they design, to the manufacturing processes and the ultimate pricing structure that allows the products to remain affordable to the masses. People are, and always have been at the heart of the business, and IKEA's clever use of marketing has always been grounded by that. No other campaign shows this better than the 2015 viral video for the 'Ikea BookBook'; an obvious Apple-parody announcing the release of their new catalogue that beautifully emphasises the Scandinavian ideals of simplicity and accessibility, with a good bit of friendly-humour thrown in for good measure.
Instead of blindly selling products based on a perceived need from the industry, IKEA seemingly listen very closely to their customer base and understand that connecting the individual consumer to the individual product is incredibly powerful, and they do this through the sense of experience and discovery you get in their stores. Although they can sometimes be an overcrowded and stressful maze of people, the IKEA showroom is designed and laid out in a way that doesn't just sells product, but sells a lifestyle – one that is certainly attainable for us all. They aren't flashing us a £200k Rolex and saying "you wish you could afford this", they're offering us a slice of attainable style by saying "we understand the way you live and why, but here's how to simplify that and live better".
They are able to sell you a product you didn't even know you needed, well before you realised you needed it. They create a need by solving simple life-centric problems (How do I look after my children and cook at the same time? How can I work at home in a small space? How do I furnish a whole room for under £500?) and their products are simple enough to be adapted and customised to suit the individual (see: Ikea Hacks). The key to this brand is empathy and humility, and it effortlessly manages to match a worldwide tone-of-voice with these values; one that is able to stay consistent whilst discussing the needs of a 4 person family in Japan one minute, and the next, understanding what a young couple based in North London may need to set up their home together.
Interestingly, although instantly recognisable by shape and colour, the actual brand design and visual sinks into irrelevance when put next to the values of the company. For so many people, IKEA is the beacon of innovation, inclusivity, flexibility, agility and diversity, and this follows through not only in their brand strategy and marketing, but also their design and products. Back in 1951, the logo looked entirely different to how it does today, but after an update in 1954, it hasn't changed much at all, bar a few colour changes and the obvious use of Sweden's flag colours to update it for a Worldwide audience in 1983.
Their catalogue style and layout is now so iconic and easily recognisable, that the Spanish Anti-austerity political party, Podemos, have recently (and rather ingeniously) used it to create and market their manifesto to the masses. Whether this will work in the long run by garnering more votes for the party will remain to be seen, but it certainly has grabbed the attention of the worldwide media, and has engaged a younger audience. This, in part, is certainly to do with IKEA's inherent brand clout and sense of togetherness, humanity and sustainability – not bad values to attach to a political party, even if it's just by design-proxy.
IKEA have, for many people, helped to redefine what a home can and should be, and that is not a space based on monetary value and square-footage, but instead is based on a sense of safety, functionality, personal-style and addressing the direct and simple needs of the inhabitants first and foremost. No matter the amount you spend in store, you are able to leave with a slice of a simple and idyllic lifestyle, whether that be with a tea-towel or full blown kitchen, and that is the reason that people keep flocking back to stores time and time again. Perhaps as a direct result of our frantic, technology-fuelled lives and the need to declutter and reconnect with what's important, IKEA offers us more than just a range of well designed furniture, but a promise that life can be made that little bit easier, one product at a time.