It's All Eco: How to Make Your Packaging Sustainable
30.03.22
Reading Time
3
MINUTES
Sustainable packaging is nothing new. 
In fact it was a hot topic way back when I was in University (yes that long ago!) And over the years, we have seen the slow, steady growth of greener packaging coming to the shelves.
It seems as though – finally – businesses are recognising their responsibility for the planet rather than just their bottom line. And in some cases, with a little innovative thinking, sustainable packaging can even improve that bottom line.
There is a big argument that this change is too slow – that businesses are still not prepared to make the 'sacrifice', and that there isn't enough collaboration between competitors to make changes for the greater good. Whilst this is true in a lot of cases, there are also huge efforts being made to drive real change across the commodities sector.
An example of this would be Starbucks who are aiming to trash their single-use coffee cups by 2025. I find it hard to imagine Starbucks without their iconic paper cup, but applaud their ambition. Their plan is to switch to a 'bring your own vessel' model, or failing that, hire a Starbucks reusable cup. It remains to be seen whether this is an achievable goal with single-use coffee cups among the worst contributors to landfill – but I hope they can make it work.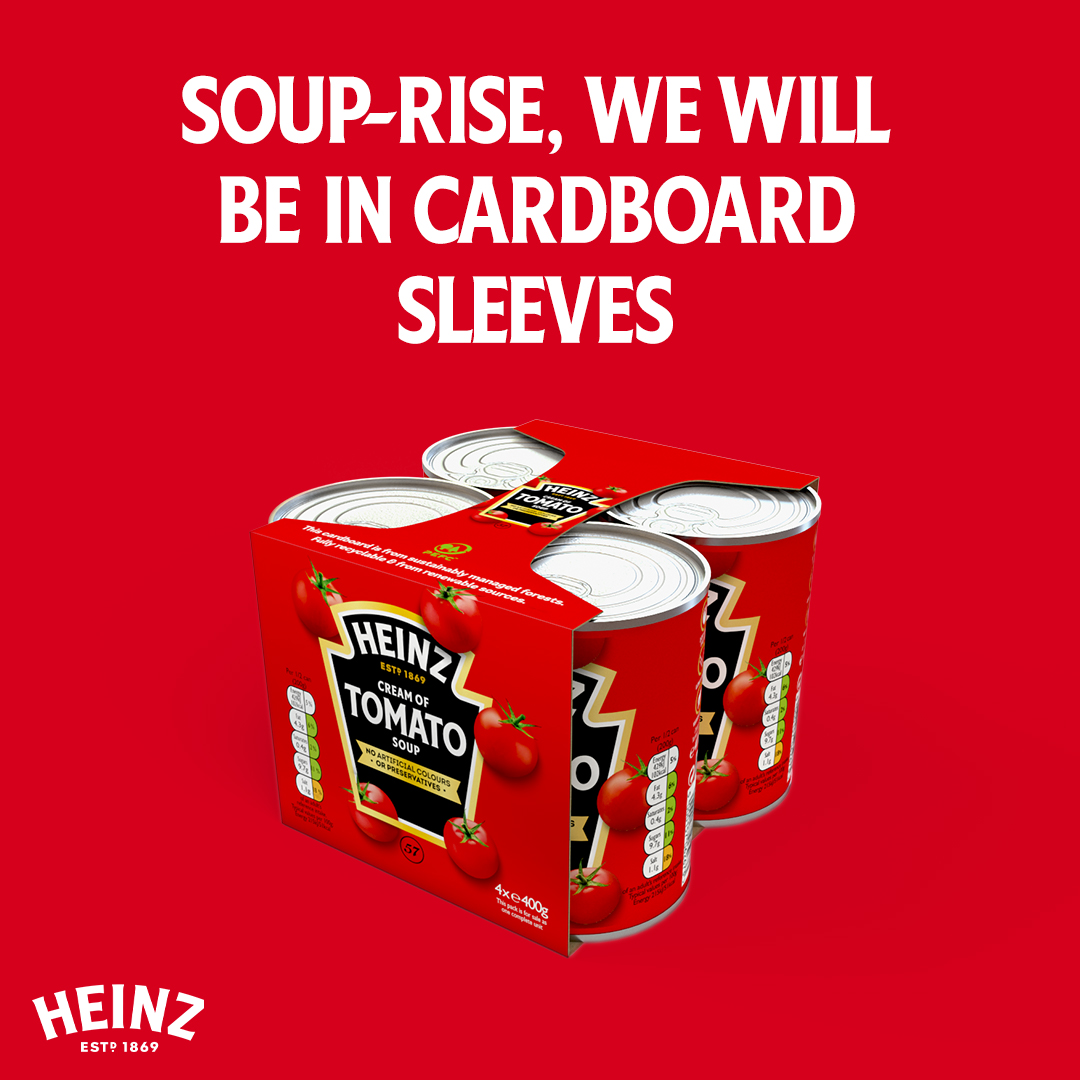 We've seen some other really exciting packaging innovations recently, one of which you will have recognised if you're Heinz baked beans lover like me (drizzled over a slow baked potato with lashings of real butter and grated cheese – oooooh). 
Heinz have managed to remove all plastic from their tinned multipacks by replacing the plastic shrink-wrap (which is tough to recycle) with PEFC certified paperboard which is 'fully recyclable and comes from renewable and sustainably managed forests'.
These super-smart cardboard packs are a slice of genius, using minimal cardboard, folded perfectly to hold the huddle of cans securely in place – to the point where I wondered how on earth so little material could hold such a weight in place. Not to mention the fact that Heinz have made the manufacturing and transport of this new innovative sleeve carbon neutral.
Nice one, Heinz!
As designers, creating packaging now comes with great responsibility. It is down to us to work with our clients to move to more sustainable options for their packaging wherever possible and to offer advice on how we can make improvements.
So, I've put together a handy checklist of simple ways we can make improvements:
1. Make it smaller
Nice and simple, but actually super important. Smaller packages are lighter, use less material, less ink, reduce pallet quantities, reduce shipping emissions and this is generally a great start when it comes to improving packaging.
2. Ensure cardboard is FSC regulated from print suppliers 
FSC stands for The Forest Stewardship Council. It's your assurance that the cardboard is made from FSC certified forests, or from post-consumer waste.
3. Push clients to use recycled stock where possible
The beautiful natural finish is an added bonus! It's definitely worth looking into, and it may save you money.
4. Avoid lamination and foiling where possible
This is a tough one because those velvet-touch business cards feel oh-so decadent…and that gold foil just adds a final touch of class and pzaz to elevate that project to the next level. But the reality of it is that lamination and foiling can cause issues with some recycling plants, and this can result in those packs going to landfill. 
5. Make sure you pitch to clients about the benefits of green-ifying their packaging 
There is a huge outpouring of great PR from businesses switching to greener packaging and, as we have seen, it may even reduce costs.
6. Greener materials are becoming 'cool'
With the green movement, plastic-heavy packaging is starting to look old-fashioned and many consumers are consciously changing their buying habits to more sustainable choices like bamboo, carton or even some crazy materials like fungus!
7. Clearly and prominently display recycling options on your packaging
Now, I'm not saying this needs to replace the logo – front and center, but use the correct labels available here: https://www.gwp.co.uk/guides/recycling-symbols-on-packaging/ and pop them in a place where buyers can easily read them.
8. Finally, pick printers and packaging fulfilment companies that take this stuff seriously 
Ultimately, they will be able to offer more help and advice to make improvements on the design such as sourcing the right materials, switching to plant-based inks, and much more.
At designdough, we have a huge soft spot for packaging projects. We like to keep three things in mind; function, beauty, and purpose. 
Your packaging isn't just a vessel for your product – it's the beginning of your whole brand experience. 
We create something special for your product, and something that works. Browse our portfolio to find out more about our packaging services or get in touch!