Onwards and upwards…
09.01.18
Reading Time
2
MINUTES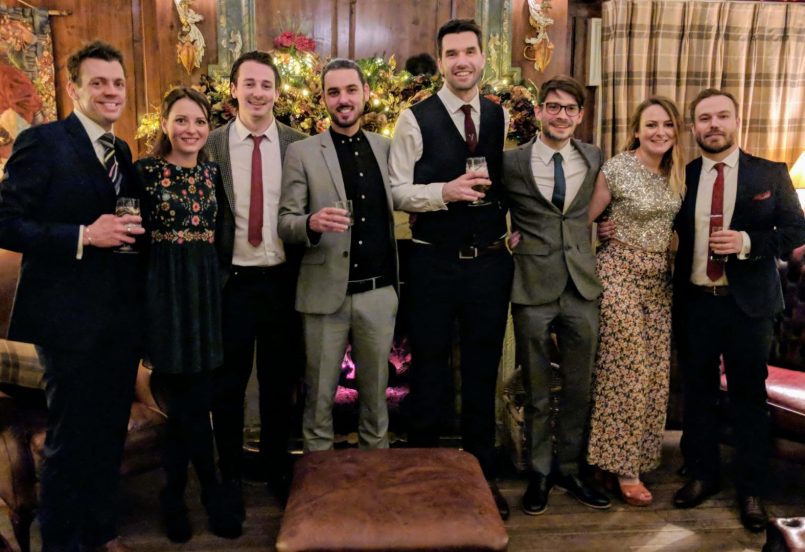 Seriously though, you can't blame us, we've had a whole lot to celebrate this past month including our James' wedding in beautiful Brecon (we TORE UP that dance floor!) and one of our most successful years to date with a team that feels more like family than work colleagues. Can't complain!
As is traditional in January, we thought we'd start the year off with some well-intentioned resolutions to lead us into the new year.
In 2018, we mostly want to:
accept our weaknesses and realise that we HAVE EFFECTIVELY turned one desk in our studio into a treat/snack table
champion our amazing clients more whilst celebrating their successes and helping them through the tougher times (we love you!)
be inspired by something, ANYTHING! A shape, colour, a person, a concept WHATEVER!? It may help solve a problem.
challenge ourselves creatively (anyone for fusing overtones of brutalism with Kawaii funk-house!?)
support our Cardiff locale and businesses – proud fo' lyfe!
wander outside our comfort zones more (wait…where are we again?)
continue investing in our team (and by 'investing' we mean 'trips to the pub after work')
find the positive in anything (even lack of biscuits)
be bitcoin millionaires by June
enjoy coffee responsibly (enjoying drinking coffee. drink more coffee. drink more coffee than humanly possible. see how much coffee you can drink in a day and then drink some more. I like coffee. do you like coffee? I'm drinking coffee now…)
embrace our differences (even if that means letting Alice listen to the Moana soundtrack in work time)
keep a clean and tidy studio (don't put it down, put it away!)
experiment with different hot beverages (what. is. matcha!?)
honour 'Snaffle o'clock' daily (FYI, it hits at exactly 11 am, every day)
invest in coin collecting. The first rule of coin-club is you must talk about coin-club ALL THE TIME.
bring as many ideas to life as possible (even if that idea involves eating your body weight in hobnobs)
sneak terms such as 'pastiche', 'raison detre' and 'bon vivant' into our copywriting…
meticulously spell-check our documents – speeling is so impotent!
kinetically hit the ground running and adopt blue sky thinking whilst staying outside of the box and living with synergy
and finally:
use less business jargon…
We'd like to say a massive thank you to everyone that supported, followed, liked and communicated with us in 2017!