A Q&A with Odddot, Brand Labs 2017 Winner
08.07.20
Reading Time
4
MINUTES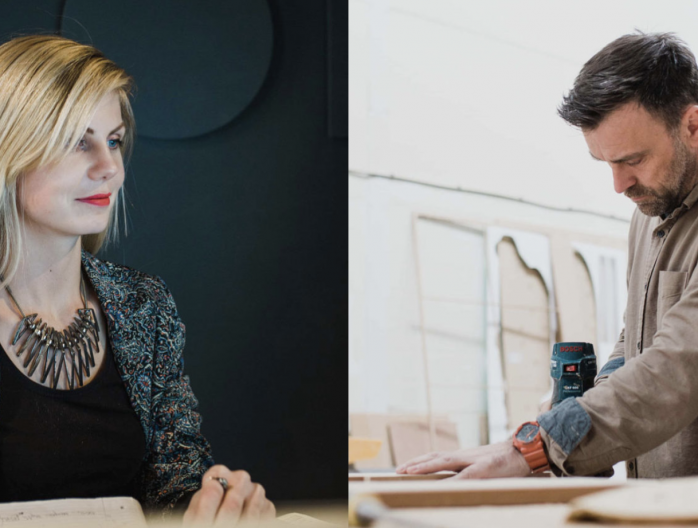 For those who are new to Brand Labs, it's the opportunity for one Welsh business (three years or younger) to win a brand and web-package worth well over £10,000.
We recently published a Q&A with last year's winner, Mubo and it went down a storm. Not only did it give those interested an insight into our competition, but also into starting a business and the lasting impact of having a considered brand and website.
That's why we were so excited when Odddot's Mags agreed to this Q&A three years following her and co-founder Paul's winning application.
You can learn more about them below but in a nutshell, Odddot creates contemporary furniture and lighting that stand the test of time, in both style and quality.
We couldn't have asked for better people to collaborate with on our first ever Brand Labs journey. Their ethos, values and attention to detail are second to none, and what transpired following their win was a dream project for us. You can check out the full portfolio here.
Lucky for us, they felt the same way and we're now working on new Odddot projects together! But for now, here's what winning Brand Labs meant to Mags and Paul back in 2017, and what it's meant for them and their business since.
Over to Mags…
We obviously know all about you, but for blog purposes, could you tell us a little bit about yourself and your business?
A little bit about ourselves: Paul is this super clever creature, which is not scared of any challenges. The word 'no' doesn't exist to him! And I like to add this design flair to whatever he's creating, to make it look pretty and fashionable. I think that was the main reason we decided to start Odddot. We both have years of experience in manufacturing and designing, and finally, we can fulfil our dreams.
The big question – why do you do what you do?
We felt 'suffocated' in our old jobs. We wanted to be challenged and create something which we would be proud of and make people happy! We're waking up in the morning and cannot wait to go to work. Weird right, but we love it!
What are your top tips for anyone starting their own business?
Few things:
To keep going! Having your own business is tough, but is also so satisfying.
You can't stop learning, discovering new things, improving your business, finding better ways.
Don't take things personally! I think that was my biggest mistake in the beginning. I felt that Odddot was perfect and everyone would cherish 'our baby' as much as we do. The second I got some criticism, it hurt! I've learned now, by taking other people's views we can improve even more!
And be open, talk to people. If you think something might not work or you have a better idea, say it! If you are unhappy with something, say it!
What was the main thing you were hoping to get out of Brand Labs?
I think the main thing was confidence and reassurance that what we're doing is right. I have never had a company before, so I was super brave and wanted to jump into the deepest water. While Paul had more experience, he was more reserved and was rethinking all of our ideas. We were hoping that designdough would help us to find the right balance.
How did you find the Brand Labs application and interview process (if you can remember!)?
I remember when I applied. I didn't say anything to Paul as I didn't think we would stand a chance. When we got the email with the invitation for the interview I literally screamed! As a start-up, you're counting every single penny, so we didn't even consider going to a design agency to do the branding and website and there we were, one step closer to having it all for free! Paul was extremely happy until I told him that we would need to do the presentation. Our confidence at that point was so low, we were scared that whenever we talked about our ideas, people would just laugh at us. I remember that we were both shaking when we got to the old DD office. Everything from that point was just a joy! Joe and Abi made us feel at home. I loved talking about our ideas and felt we were all on the same page. We didn't want the interview to finish!
Describe your overall experience with Brand Labs in 3 words.
Excitement (waiting for the results, going for the meetings)
Boost (of confidence)
Joy (being able to work with the whole DD team, and being able to go through that process)
How did you feel about the final result?
We absolutely loved it! You know that frustrating feeling when you're trying to explain to someone what's in your head and they just don't get it. With DD we literally felt like they had opened our minds and read us like a book!
How have your brand and website impacted your business?
Extremely! I think people are looking at our business with a different attitude. We look more established, more professional.
How have your brand and website impacted your confidence?
Again, massively! We exhibit our furniture all over the UK. We also go to design exhibitions all over the world, and each time we pass out our business cards, we know that when people look at our website they will be impressed. It is so much easier to talk about projects with our clients, knowing that they have checked our website already and know they are talking to professionals.
If anyone is on the fence about applying this year, what would you tell them?
Just do it! You don't lose anything, you can only gain! designdough are such a lovely bunch of people. They will make you feel like you can achieve anything you dream of!
To learn more about Brand Labs 2020 and how to apply, click here.