The Power of Brand: Supreme
26.04.18
Reading Time
4
MINUTES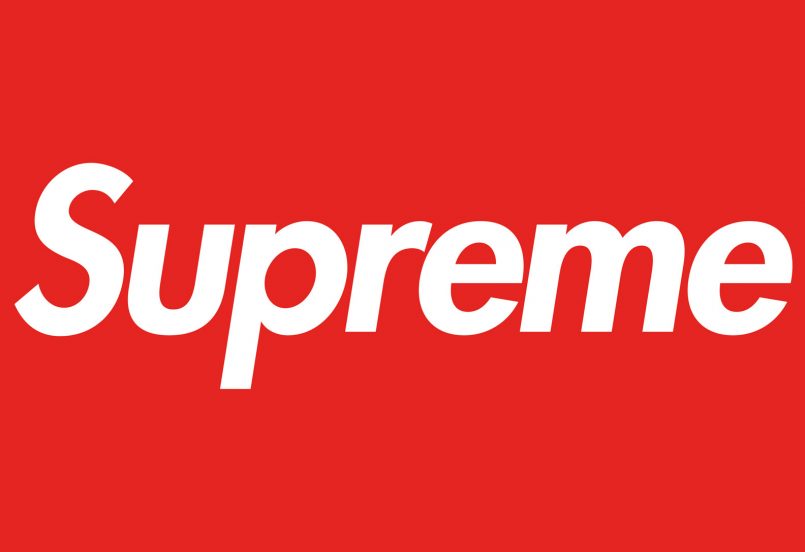 The businesses in question have taken their identities and, whether through superior judgement or just plain luck (we'll be trying to figure out which as we go along), have managed to turn their brands into something closer to a religion.
We start this new blog series with an analysis one of the most powerful streetwear brands in the world today, and the company that has turned hype and implied exclusivity into an art form.
Supreme; the brand synonymous with the term 'hypebeast' (slang for a person obsessed with fashion brand hype to the point that, regardless of their finances or whether they even LIKE the product, will queue up for days in order to catch the latest drop) is as controversial as it is popular. Started in Manhattan in 1994 by British businessman, James Jebbia, Supreme was created as an amalgamation of Jebbia's experience of working within the retail fashion industry, specifically with Shawn Stüssy of Stüssy Inc. Having bought his first location for $12,000 and named the shop 'Supreme' (Jebbia never meant for Supreme to become a brand within its own right), Jebbia set about hiring local skateboarders to man the shop and soon, with the popularity of skating rising, the store became a popular hangout for local kids. Supreme started to become synonymous with high quality streetwear served with a cocky, nihilistic attitude. Yet this approach did little to turn people away, in fact Jebbia credits the initial growth in popularity of the brand to his unpolished, raw, yet undoubtedly cool and relatable employees – it was these people that, without instruction or coaching, set the entire culture for the Supreme brand for years to come.
A key theme for Supreme is appropriation (or mis-appropriation depending on your standpoint), yet it is through this implied 'copying' of pop-culture iconography (such as Louis Vuitton, The New Yorker, Coca Cola and even Jack Daniels) that the brand has emerged as an anarchistic icon within its own right; it's a subtle fu*ck you to consumerism and corporations, yet Supreme now ironically nestles (quite comfortably) in the company of these huge brands, as its net worth now rests in the billions. It's an interesting paradox, and one that shouldn't work; the brand should be seen as hypocritical and mercenary for this very reason, yet this only adds to the appeal. The brand doesn't try to hide this side of itself, and this is what's proved so popular; the honesty and the downright cheek.
For more examples of Supreme's appropriation – check out Supreme Copies on Instagram.
The brand itself has never been able to be trademarked and so this has left it open to being copied and appropriated, although the history of the brand visual is rooted in plagiarism. American Conceptual artist, Barbara Kruger was first responsible for creating artworks featuring the bold Futura Heavy Oblique typeface on stark red backgrounds that were often overlayed onto black and white photographs. This iconic style was the vessel for Kruger's commentary on consumerism, feminism and human autonomy and two of her most famous works are arguably 'I Shop Therefore I Am' (1987) and 'Your Body Is A Battleground' (1989). It's the juxtaposition between Kruger's original narrative and the materialistic nature of the Supreme brand that is so interesting.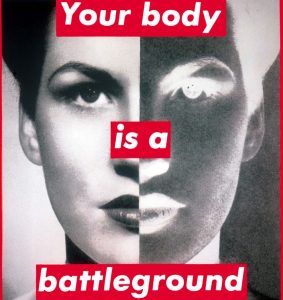 In fact, Kruger has recently just teamed up with skate brand Volcom as part of the 2017 Performa Performance Art biennial, opening up a pop-up store selling limited edition clothes and skate decks, charging $5 to even enter the space. This saw thousands of people queuing for the pleasure. Sound familiar? According to Kruger this was in no way influenced by Supreme or her past dealings with them and 'the drop' was instead a piece of performance art in its own right.
Supreme 'drops' are nothing short of legendary. Every Thursday (Saturday in Japan) of the season sees a new batch of products released, with thousands of people queuing up to enter not only physical Supreme stores, but online ones too. The drops have been so in demand that various stores have now set up ticketing systems that give consumers a dedicated time slot to enter the store, and once inside they only have 15 minutes to browse and make their purchase.
So why the hype? Huge celebrity endorsements have helped, with a particular focus on musicians and hip-hop culture, but we can't forget the huge resale market for Supreme products too, which has led to communities of young brand followers setting up their own businesses based on acquiring and reselling Supreme items on eBay. One of the items with the highest resale value today is the Fall/Winter 2011 Supreme x The North Face Nuptse Jacket, which originally retailed for circa $368 but was later resold for $4500, mainly due to Drake wearing it in his video for 'the motto'. A simple eBay search reveals the same jacket with starting bids of $3000, so it shows demand is still high 7 years on.
Another facet to the hypebeast mentality could well be how limited the Supreme drops actually are – the actual number of units of an item made per drop is a closely guarded secret, but with the most sought after items selling out online in under 10 seconds, the numbers can't be that high. This lends itself to the 'panic buying' aspect of the brand; the 'buy it before it's too late' mentality that sees people fighting in line or squaring up to the store's security. Once an item drops, it is never released again and so unless you want to pay inflated resale prices, you better be quick.
For a brand that famously sold-out of a branded crowbar (oh, and let's not forget the brick!) the power of the hype surrounding this company cannot be questioned, even if it does border on the ridiculous.
---
Further Reading