We Love: OkCupid's 'DTF' Campaign
28.03.18
Reading Time
< 1
MINUTE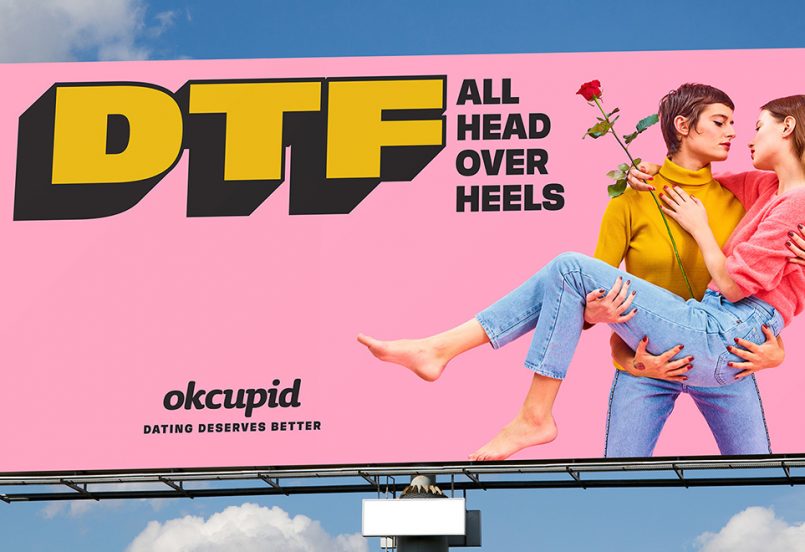 Okay, good, now that awkwardness is over with…
Online dating site, OkCupid has recently released an absolutely genius marketing campaign that has taken the Ad-world by storm. Giving a new spin to the term 'DTF' (again…er hum…see above) and as a revolt against modern dating culture and the ironic dehumanisation of individuals on social media, the brand joined forces with advertising powerhouse, Wieden + Kennedy New York to conceptualise their vision and offer truly refreshing creative to back up some timely messaging.
The visual is both modern and retro, harking back to a photographic style often seen in vintage advertising but then refreshed with a bold palette of bright and vibrant pastels and primaries. Artist Maurizio Cattelan and photographer Pierpaolo Ferrari worked together to deliver an aesthetic that helps to support but doesn't diminish the messaging, which is both simple but effective, with the F of DTF being followed with varying statements that encourage political discourse, inclusivity and the acceptance of individuality.
This campaign sways into both sociological and political realms ('Filter out the far right' and 'Fight about the president'), and in today's climate, this is particularly pertinent, with younger generations joining in political debate more and more and realising that their voices are just as important as previous generations.
The campaign also does something to refresh the reputation of online dating for younger people who tend to rely on the quick and convenient but impersonal experience of Tinder. Previously, OkCupid was seen as a platform for more mature audiences, but with this new positioning, they have managed to open up a whole new, younger pool of prospective daters that share these values and belief systems.
Truly outstanding design and messaging – we can't wait to see what the brand comes up with next.